Faculty News
Jose Casanova hosts virtual discussion, "The Religious and Secular Sources of Democracy and Nationalism: A Conversation with Craig Calhoun"
On August 27th, sociology professor Jose Casanova was joined by sociologist Craig Calhoun in an event hosted by the Berkley Center for Religion, Peace, and World Affairs to discuss nationalism and cosmopolitanism, receding hopes for a global fourth wave of democracy and specifically for democratization in China, and the COVID-19 pandemic and the contemporary global condition, with a special attention to its effects on universities and social science research.
More information about the event can be found here
Brian McCabe joins Eva Rosen on virtual event for her new book, "The Voucher Promise: 'Section 8' and the Fate of an American Neighborhood"
OnJuly 28th, sociology Professors Brian McCabe and Eva Rosen hosted a virtual event joined by numerous other sociologists from around the country to discuss the contents of Professor Rosen's new book, "The Voucher Promise: 'Section 8' and the Fate of an American Neighborhood, which uncovers how Baltimore's voucher program shapes the lives of its low income citizens.
More info on the book can be found here
Guarav Pathania organizes virtual discussion, "Race, Resistance, and Civil Repair: Black Lives Matter and Beyond"
On July 25, sociology Adjunct Professor Guarav Pathania moderated a discussion he helped organize titled, "Race, Resistance, and Civil Repair: Black Lives Matter and Beyond". The event touched on how themes from Black Lives Matter be applied to similar movements in other parts of the globe.
Corey Fields and Becky Hsu give virtual talk on Racism in American Institutions
In July, Sociology Professors Corey Fields and Becky Hsu gave a virtual talk on the many ways racism permeates American institutions, and offering possible evidence based solutions to solving some of these issues.
A link to the full talk can be found here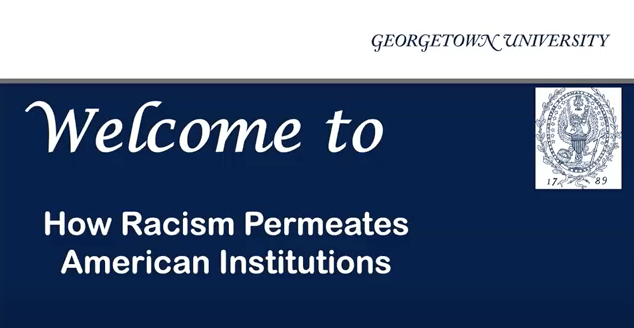 Gaurav Pathania publishes New Book and Receives Assistant Editorship
Sociology adjunct Gaurav Pathania recently published his new book, "The University as a Site of Resistance: Identity and Student Politics", which explores how Indian universities function as spaces where social issues transition into social movements.
In addition, Gaurav was also recently added to the journal, South Asia Research, as an assistant editor.
For more info on the book, look here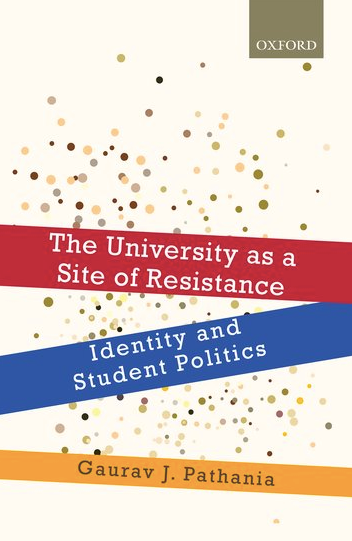 Rahsaan Mahadeo Featured in ASA Publication, "Contexts"
Sociology Post Doc. Rahsaan Mahadeo was recently mentioned in the Fall 2019 issue of the ASA publication "Contexts". Rahsaan was mentioned in an article titled "Whose Time is it? Whites' Time", which discusses the issue of time inequality through the lens of race.
More info on the article can be found here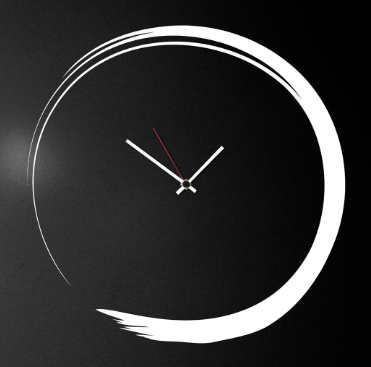 Sociology Department Appoints New Chair, Katharine Donato
The sociology department recently appointed Katherine Donato to be the new chair. Donato is the Donald G. Herzberg Professor of International Migration and Director of the Institute for the Study of International Migration (ISIM).
More info about Katharine's work with ISIM can be found here. General info about her work at Georgetown can be found here.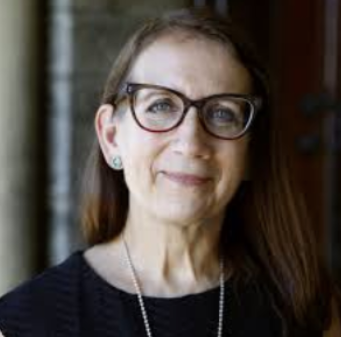 Professor Yuki Kato Publishes an Article Related to Her New Book
Professor Kato's article "examines the development of the urban cultivation (UC) scene in New Orleans over the decade following Hurricane Katrina with a particular focus on entrepreneurial UC projects".
More info about the article can be found here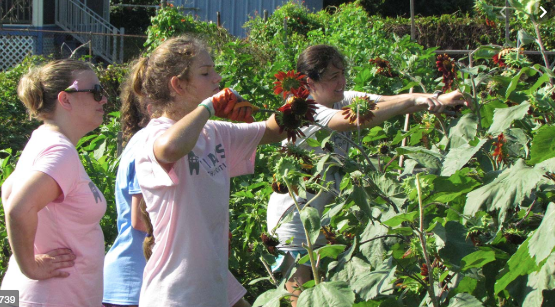 Professor Yuki Kato Co-Edits New Book
Sociology Professor Yuki Kato recently co-edited a newly published book, A Recipe for Gentrification, which explores, "The ways in which food and gentrification are deeply—and, at times, controversially—intertwined".
More info about the book can be found here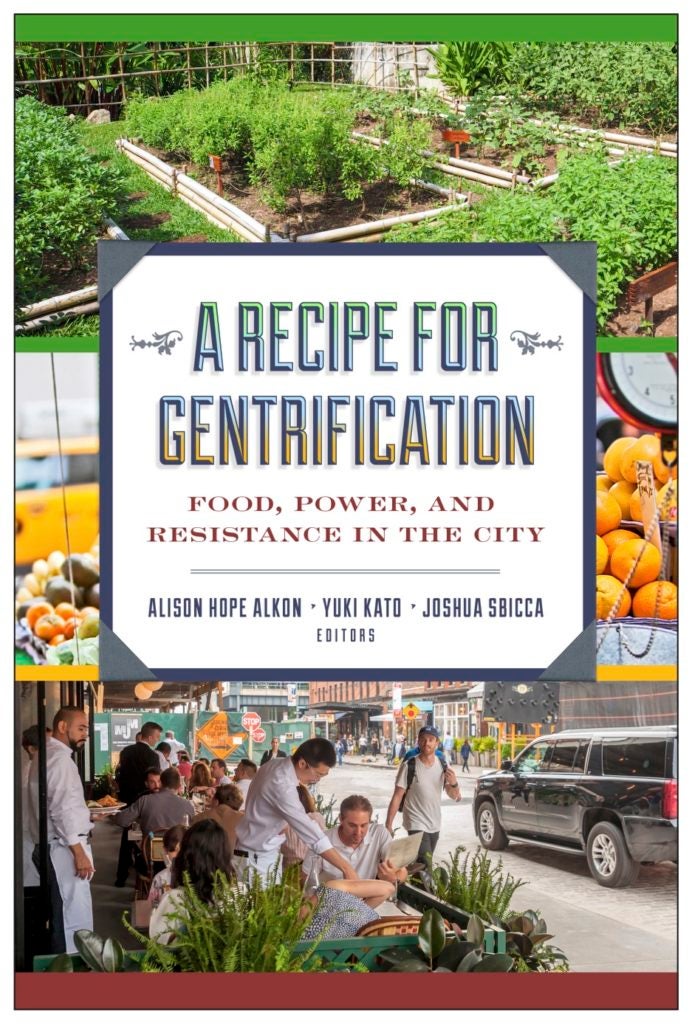 Berkley Center Celebrates 25th Anniversary of Jose Casanova's Book
In 1994, Berkley Center Senior Fellow José Casanova published his now famous book Public Religions in the Modern World, and 25 years later, the book continues to be cited as a classic in the study of the sociology of religion.
This profile details a career that has taken Casanova around the world.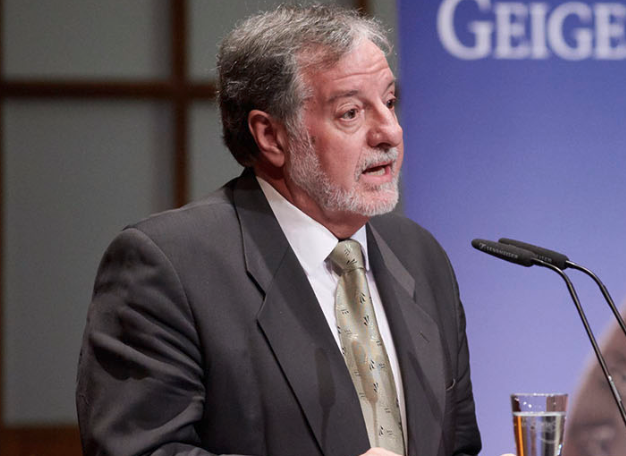 Visiting Professor Waverly Duck joins GU Sociology for Spring 2020
Waverly Duck is an urban sociologist and Associate Professor of Sociology at the University of Pittsburgh and will be teaching The Politics of Community: African-American Experience for the upcoming Spring semester. His research examines the social orders of poor Black neighborhoods, as well as manifestations of race and gender among the upwardly mobile, using ethnographic and ethnomethodological approaches that focus on how meanings are created and sustained in contexts of inequality (interactional, neighborhood, and organizational). His research extends further into a broad range of topics, including the social organization of communication in settings troubled by autism, welfare reform, and gender disparities.
More information about Professor Duck's work can be found here
Sociology Professor Rahsaan Mahadeo gives talk at Black Midwest Initiative
Sociology Professor Mahadeo recently at the Black Midwest Initiative, a symposium founded to bring heightened awareness to the experiences and contributions of black people living within the region.
For more information on the conference and the various topics it covers, check out the link here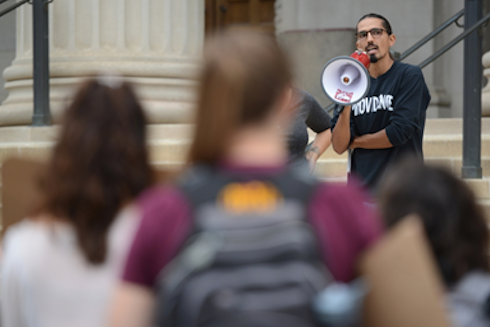 Sociology Department Hires New Adjunct Faculty
The sociology department recently hired two new adjunct professors: Kimberlee Holland, and Gaurav Pathania.
Kimberlee was a former adjunct faculty member in the Sociology Department at American University. A short feature on her can be viewed below.
Gaurav previously taught in the Sociology department at George Washington University. Further information about Gaurav can be found here.
Professor Sarah Stiles to Give Talk at Georgetown TEDx Conference
Sociology Professor Sarah Stiles will be giving a talk about her work in flourishing among Georgetown students at the Georgetown TEDx conference. The event will be taking place on Saturday, October 26th from 9:00 AM – 4:30 PM.
Tickets for the event can be found here

Professor Corey Fields Interviewed on NPR Podcast Series, "Code Switch"
Sociology professor Corey Fields was recently interviewed on the NPR podcast series. In the podcast, he gives insights into black republicans in todays political arena.
Listen to the full podcast here

Becky Hsu's new book is published
On September 24, 2019, The Chinese Pursuit of Happiness: Anxieties, Hopes, and Moral Tensions in Everyday Life was published by the University of California Press, edited by Becky Yang Hsu and Richard Madsen. What defines "happiness," and how can we attain it? The ways in which people in China ask and answer this universal question tell a lot about the tensions and challenges they face during periods of remarkable political and economic change.
Find out more about the book here
Sarah Stiles Receives 2018-19 Bunn Award
Sociology Professor Sarah Stiles recently received the Bunn Award for the 2018-19 school year. This award is presented to a member of the College faculty who, in the estimation of the senior class, is admired and respected by all students for his or her service to Georgetown in the classroom and on the campus community. Stiles won the award in 2013-14 as well. She is one of only 5 professors at Georgetown to win the award twice and the only woman to do so.
Read the full list of award winners below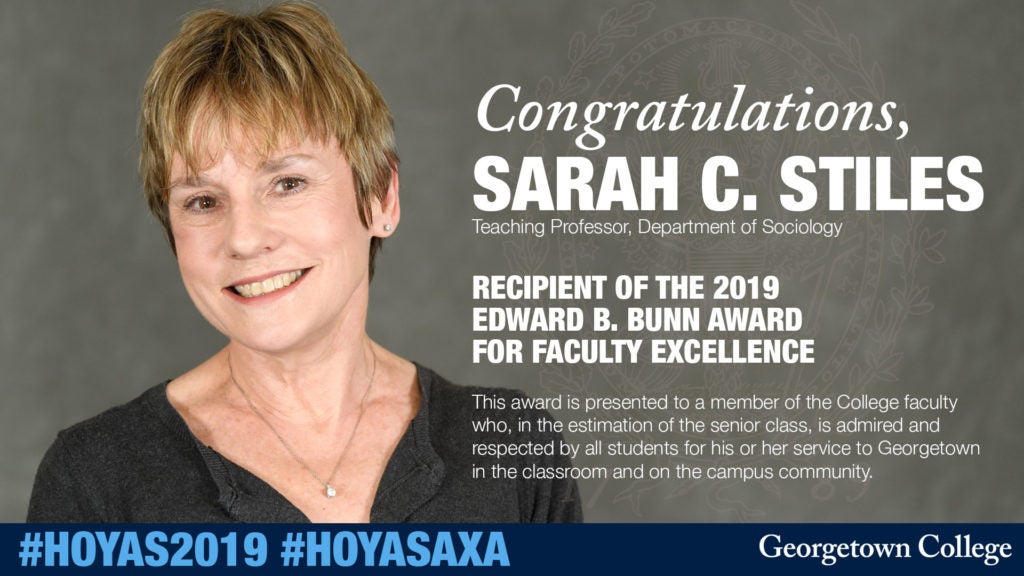 World-renowned Professor, José Casanova, Offers "Last Word" on Secularization
José Casanova delivered the 2018 Edward Cadbury Lectures at the University of Birmingham, which are now formally published in the new reference journal Brill Research Perspectives on Religion and Politics. Over a series of four talks titled "Global Religious and Secular Dynamics," Casanova discussed the relationships between secularization, religion, and globalization in the modern world. These talks took aim at two competing theories of modernization: on the one hand, the secularization thesis, dominant for much of the past half century, which views the rise of European-style secularism as an inevitable byproduct of modernization; and on the other hand, contemporary theories which instead view modernization as a pluralizing force and which treat European secularism as an exception to a general trend of religious differentiation.
Read the full article here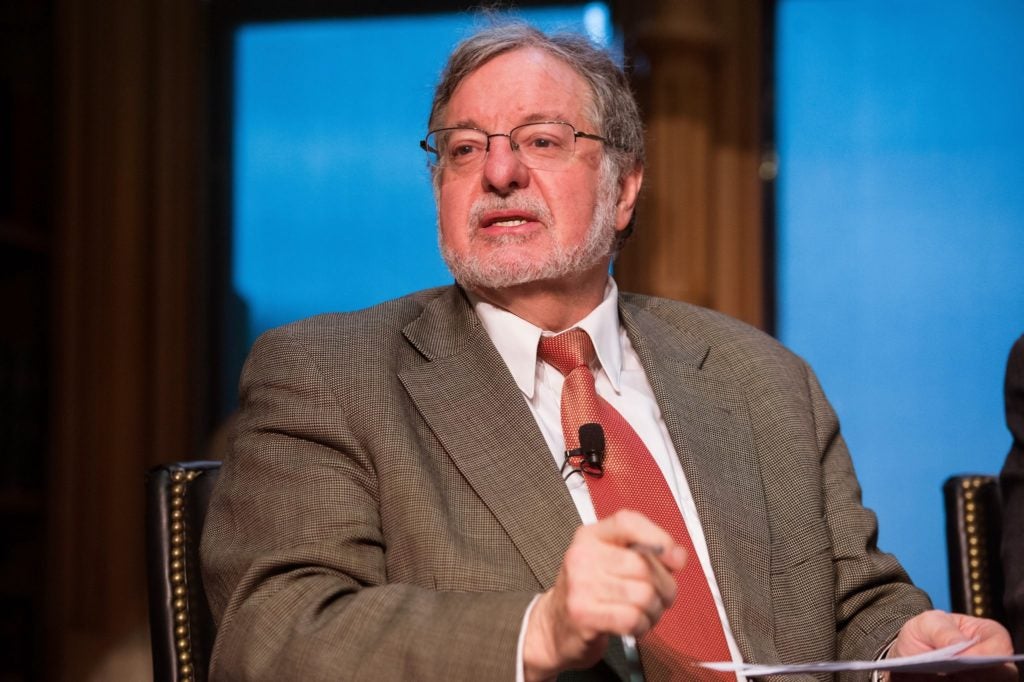 Georgetown Medicine Magazine Profiles Prof. Stiles's Flourishing Course
The Flourishing in College and Community course taught by Sarah Stiles and Carol Day was recently mentioned in an article highlighting the University's effort to improve mental health resources on campus.
Read the Full Article Here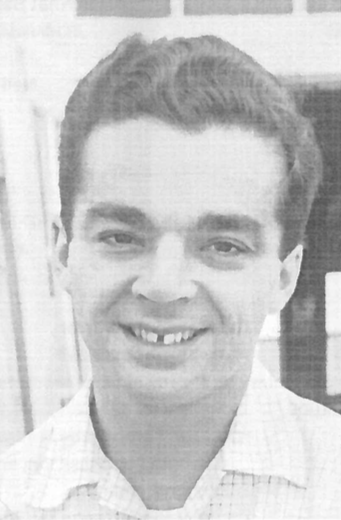 Professor Murray Gendell Passes Away at age 95
On February 23, 2019 Professor Murray Gendell passed away peacefully at home with his family. On April 27th A Celebration of Life event was held in his honor, at which Professor William F. McDonald, Chair of the Sociology Department, gave a eulogy.
To read the full eulogy click here
Professor DeRose Giving Talk on Motherhood at Austrian Embassy
May 8, 2019 – Professor DeRose will be participating in a discussion on the evolution of motherhood throughout the 21st Century at the Austrian Embassy. At the talk, she will present insights from her most recent study, "Gender Equity, Faith, and Fertility in the 21st Century". Find out more about the event here.
Professors of Georgetown: Sarah Stiles
April 17, 2019 – An article in The Hoya featured six professors discussing their motivations for teaching and memorable moments in the classroom that changed the way they saw their students, their course and themselves. One of them was our very own. Read what Sarah Stiles had to say here.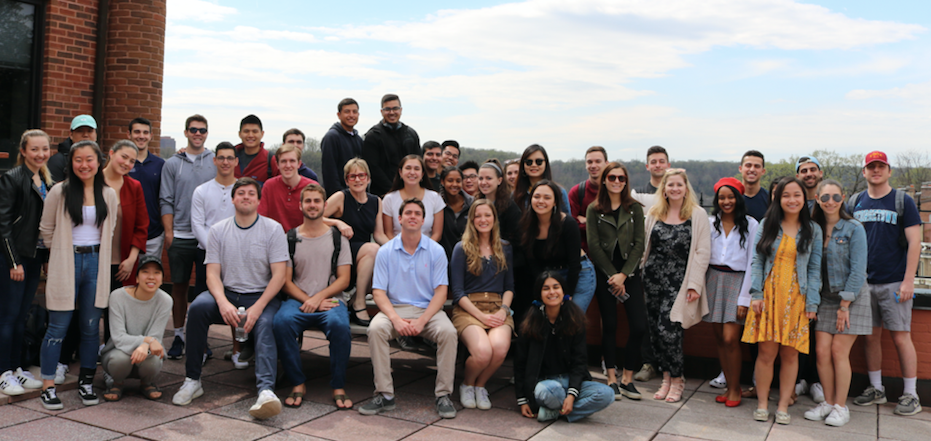 Professor HSU Giving Speech on new book, Happiness in China
Januray 23, 2019— Professor Becky Hsu is giving a talk on her new book, Happiness in China, on January 23, in Maguire Hall Room 303, from 12 – 1:30 as part of the "China's New Era" speaker series. The talk will explore what happiness looks like in an evolving China.
Find more information on the speech and speaker series.
Professor Dyson Gives Speech at Aretha Franklin's Funeral
September 4, 2018— Professor Micheal Eric Dyson recently gave a rousing eulogy at Aretha Franklin's funeral, celebrating the singer's life and touching on a number of current topics from former President Obama to current President Trump.
In repsonse to President Trump's comment that Aretha Franklin had worked for him in the past, Dyson passionately retorted, "You lugubrious leech! You dopey doppelganger of deceit and deviance. You lethal liar. You dimwitted dictator. You foolish facist! She aint work for you. She worked above you, she worked beyond you. Get yo preposition right!."
Watch Professor Dyson's speech
Professor Guidroz Quoted in Washington Post
May 13, 2018— Professor Guidroz was recently quoted in an article in the Washington Post reporting on the emerging popularirty of gender reveal parties. Guidroz cautions against it's growth in popularity, remarking,
"There are increasing numbers of people who are not identifying as a gender or identifying with both genders. We have to wonder, 'Why have [gender-reveal parties] became more popular in the past decade when so many people are not ascribing to the gender binary?' Sociologists talk about gender socialization starting the moment the child is born, but this phenomenon actually starts the socialization before that."
Read the full Washington Post article.
Professor McDonald Publishes New Book
May 2, 2018—In The Criminal Victimization of Immigrants, Professor McDonald tells the other side of the story about immigrants and crime. Immigrants are victims of crime more often than natives. They are usually victimized by other immigrants of the same ethnicity. They are victimized by their-own kind because they live in the same neighborhoods and live the same lifestyles as other immigrants.
When immigrants are victimized by natives, it usually involves hate crime. In its hate crime statistics report, the FB.I does not single out crimes against immigrants. For that infonnation one has to rely upon anecdotal infonnation in the media.
In the United States hate incidents against immigrants can be easily found in the press. In the 1980s Mexicans began arriving in Turner, Maine, a small rural township. Roadside lobster stands began serving salsa and chilies. In 1995, two white men shouted "Go back to Mexico!" at a group of Latino poultry workers. They then pursued the fleeing Latinos at high-speed, firing shots at their vehicle, injuring one of them.
In the early 1980s, newspapers reported that Ku Klux Klan members in San Diego, CA were boasting of"beheading and burying undocumented aliens." In early 1998 in Texas during the execution of Karla Faye Tucker a mob quickly turned against a group of anti-death penalty, Hispanic protestors. They yelled slogans such as "Go Back to Where You Came From/' Mexicans just come in to trash our country." "They should all be killed."
The United Kingdom also does not publish hate crime statistics regarding immigrant victims. But, the UK-has an organization (the Institute of Race Relations) that compiles chronologically what appear to be anti-immigrant attacks reported in the press.
Violence against intimate partners' is a universal phenomenon. It reflects patriarchal social orders that exist everywhere but are stronger in developing countries. Anti-woman cultural practices flourish in many countries. Women from those countries are especially vulnerable. Even immigration law puts them at a disadvantage. It makes them dependent upon their spouse's wishes. Mail order brides, especially in this age of the internet, are at high risk of violence and death.
Human trafficking, the modern form of slavery, is a global practice which has been campaigned against since that indefatigable feminist, Josephine Butler, who initiated the international effort against "white slavery" -distinct from her father's efforts that helped end "black slavery." Both male and female victims are caught in the grind of human trafficking. Females are well the majority and most of them are involved in prostitution. Modem slavery is more difficult to abolish than traditional, chattel slavery which was protected by the state. Since the 1990s the United Nations and the United States have made major efforts to suppress human trafficking. They have created a global prohibition regime that prosecutes traffickers and protects victims.
Many nations are cooperating. But the number of successful prosecutions pales against the size of the problem. Prostitution is legal in many countries -including the United States. It provides a legal market for sex slaves and thereby undercuts the campaign against trafficking.
Sociology Faculty Celebrate Professor Hall's 50 years of service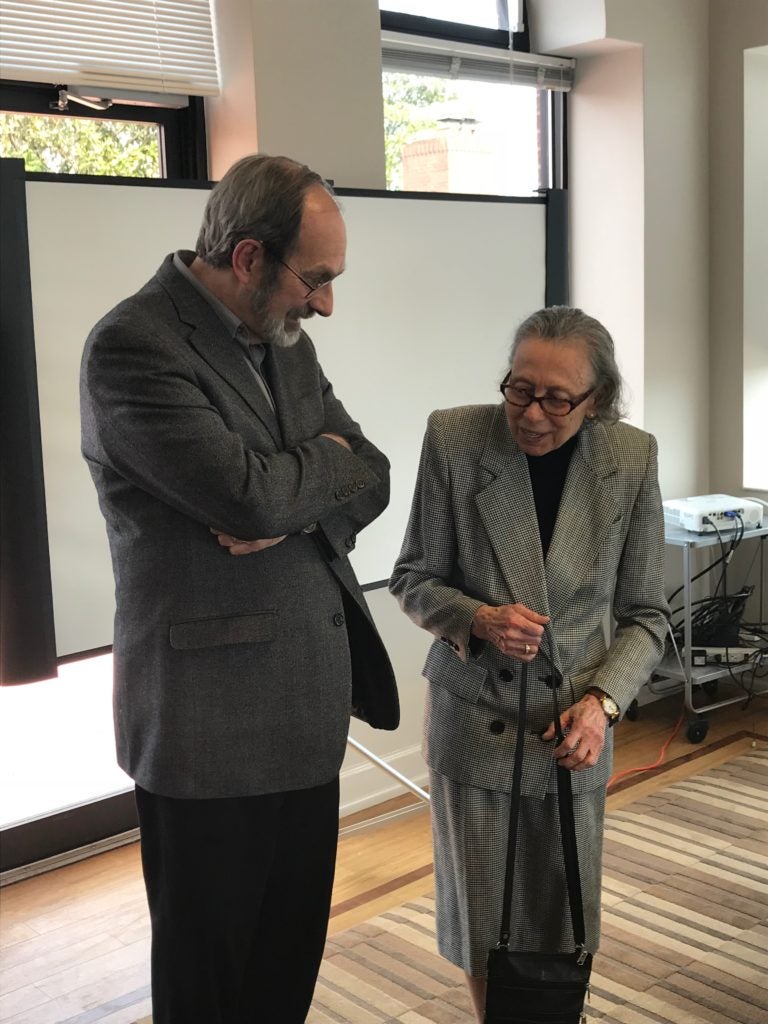 May 2, 2018— After decades teaching in the Department of Sociology, Professor Hall retired this Spring. Family, Friends, and Faculty celebrated her many achievements within the department.
Additionally, Professor Hall was presented with the C. Margaret Hall Senior Thesis Award, which has been dedicated in her name.
Professor Hall beautifully concluded the celebration saying, "It's been a wonderful life and it wouldn't have been so without Sociology."
Professor Hall Interviewed on 50 years at Georgetown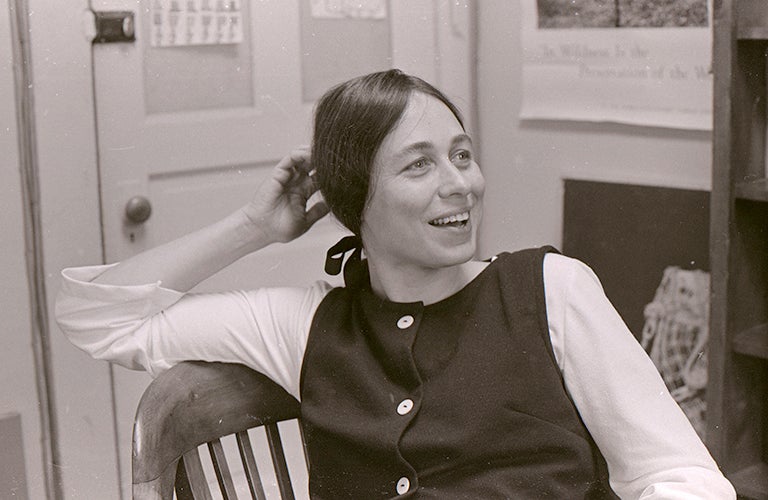 April 11, 2018— Professor Margaret Hall was recently interviewed on teaching at Georgetown for 50 years. Professor Hall retired this year.
Few people in history can claim to know Georgetown as well as Professor Margaret Hall.
Prof. Hall retired from teaching this spring after spending more than 50 years on the Hilltop, including 47 as a full-time professor in the Department of Sociology. One of the first women to be granted tenure at Georgetown, she served as department chair on two separate occasions and also directed the women's studies program. Her research focused on social intelligence and the social construction of identity and behavior.
We caught up with Prof. Hall to talk about her impressive career at Georgetown, the evolution of her discipline, and her advice for today's students.
HOW DID YOU MAKE THE DECISION TO GET INTO TEACHING?
My mother tells me I played teacher with my dolls, so I think it was a long, deep-seated quest on my part to do something with people who could learn from me.

WHAT BROUGHT YOU TO GEORGETOWN?

I married an American in London and followed his career for most of my career. It was really the learning process that interested me, and as a social scientist, I wanted to change something in the world. It seemed very productive for what I had in mind, trying to do something about social intelligence.

YOU SAID YOU WANTED TO CHANGE SOMETHING ABOUT THE WORLD. CAN YOU EXPOUND ON THAT?

I bumped into almost inexplicable examples of pain. I was a privileged young kid, an only child who saw a lot of poverty in my town, Manchester, a city of the industrial revolution. It was a poor, working-class area, but I wasn't in the poor part. The gap in resources grabbed me.

To what extent can one change what is given at the turning points in life? What drew me in was how I had a greater sense of control over my life, and I wanted to pass that on. I couldn't perform miracles, but I could change lives in ways that mattered.

TALK ABOUT YOUR OWN RESEARCH AND HOW THE FIELD OF SOCIOLOGY HAS EVOLVED.

There's certainly more multidisciplinary work in research areas — you can't get away with only being a member of a minor or less-resourced discipline. You need to cross boundaries and integrate research if you want to do something substantial.

There was no sociology department at all when we first came here, so we had our parallel development as a department. We tried to find meaningful curricula — we always tried to do something new, something traditional, something individual and something as a group. It's been a great challenge.

I think my own research specialty in social intelligence is just an example of new ways to approach studying and problem solving. The discipline of sociology at Georgetown is the place where we do this kind of new thinking.

WHAT HAS CHANGED ON THE HILLTOP SINCE YOU STARTED?

The increase in residential accommodation available is important — I think students are more able to do evening activities and projects than they were before. Beautiful buildings.

But there's a kind of "inside change" in how the students think, not just the "outside change" of things like new buildings. We have to see the link here to science — not just science that we learn in the classroom, but science in society. We were in a search for description, and now it's a search for explanation.

WHAT'S STAYED THE SAME?

Georgetown has a presence. It's a very reassuring presence, and it's good to be able to get together with others in ways that would make major differences. I never thought that parts of society in people's lifetimes would be subject to these pressures.

WHAT'S YOUR FAVORITE MEMORY FROM GEORGETOWN?

It isn't a single memory, but it's the process of becoming more American. I was born in Manchester and came over in '63, having married an American sweetheart. It helped make me more American to come to Georgetown, go through ceremonies like graduation, and really feel part of the country. That happened through the business of Georgetown.

ANY ADVICE FOR SOCIOLOGY STUDENTS TODAY?

One of my hardest problems with students is the attitude of 'What can you do? You can't do anything.' Well you've got to do something. We've got to assume this responsibility ourselves.

You just need to start the first few steps of the journey toward your interests or ambitions. You can't leave all your other responsibilities alone, but you can start by taking charge of a small part of a project, then a deeper part of a project. I always tried to get students interested in the human responsibility for changing the world.

Once at a College Executive Council meeting, we were doing a rewrite of the Georgetown mission statement. We had a discussion on the role of change and participation, and I said it can't just say "participation," it has to focus on an "active participation." And that phrase is still there today.

Read the original article.

Professor Kato participates in new Georgetown podcast


February 14, 2018— Professor Yuki Kato recently participated in the new Georgetown podcast, Three Professors Walk Into a Bar. This new series is a podcast series intended to facilitate meaningful conversation around complex global issues. Each week, professors will explore different topics, challenges, and consequences of the global issue and attempt to grapple with some of the challenges and consequences it presents. Professor Kato was joined by Professors Mark Giordano and Randall Amster in the first episode of the series, "Food, Food Sustainability, and Climate Change." In this episode, they discussed food security on two levels. First, how nation-states in the Middle East or India are responding to decreasing water supplies, arable land, and rising temperatures. Second, how modern cities can help respond to climate change with proactive programming, especially in areas frequently impacted by natural disasters.
Listen to the episode and learn more about Three Professors Walk Into a Bar.
Professor Hsu's New Book makes it on the LSE Review of Books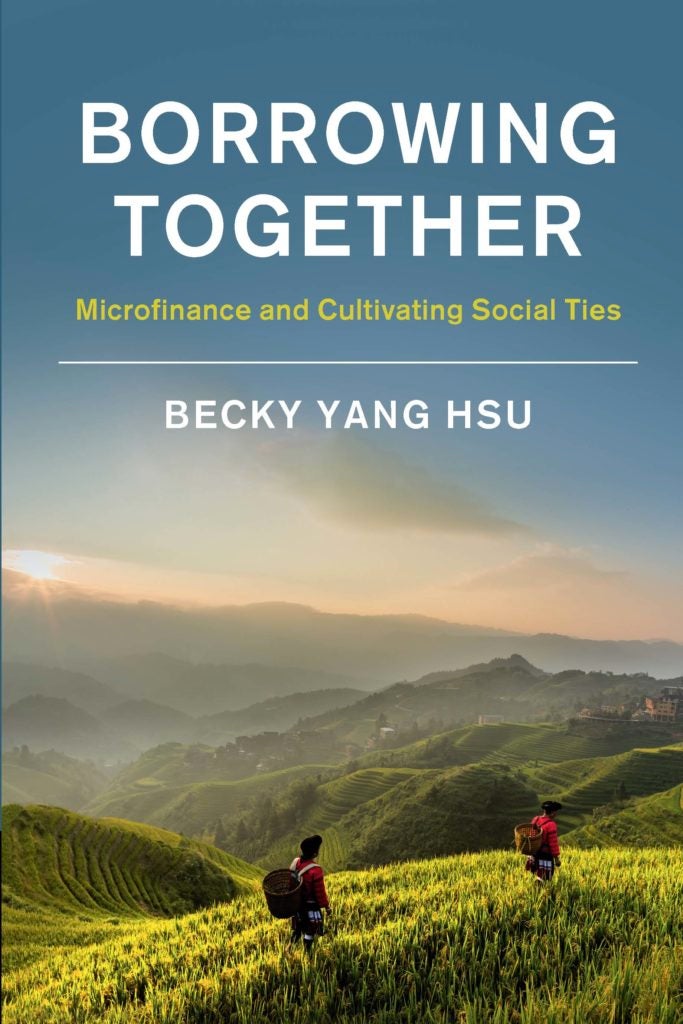 January 17, 2018– In Borrowing Together: Microfinance and Cultivating Social Ties, Becky Yang Hsu draws upon two microfinance projects in rural China in order to explore the social relations and cultural dimensions underpinning microfinance schemes. Drawing upon an innovative methodological approach, this book offers valuable challenge to the individualism often placed at the heart of microfinance models with implications for practical policy, writes Kinnari Bhatt.
Microfinance had been held up for decades as a 'silver bullet' against global poverty, becoming one of the world's most high-profile and generously funded development interventions and earning its founder, Muhammed Yunus, the 2006 Nobel Peace Prize for the most visible microfinance organisation in the world, the Grameen Bank. Even the TV series The Simpsons told a story of microfinance, with Lisa Simpson lending 50 dollars to the school bully through the fictional 'Metamorphosis Microfinance'. She watches as his small business blooms, but his budding enterprise soon collapses. Lisa is confused, saying: 'It didn't go the way I expected.' Fiction aside, these 'tales of the unexpected' have led to horrific suicide epidemics with small loans turning into big curses for poor, overindebted people. However, microfinance is back on the road to redemption, making Becky Yang Hsu's book Borrowing Together: Microfinance and Cultivating Social Ties timely.
In the microfinance model, borrowers form groups and then repay together in a joint-liability structure in which members are responsible for one another's loans in some form or another. Borrowing Together shines light on a surprisingly underexplored aspect of group lending microfinance: its social and cultural dimensions. Considering how the defining characteristic of the microfinance model is this use of 'free' social collateral, the existing lack of sociological research on this element is perplexing. By turning the centre of analysis away from 'money' as the primary asset for poverty alleviation to the social and cultural relations that underpin two microfinance projects in rural China, Hsu presents rich practical and theoretical insights into what people did with microfinance and why its success has been so patchy.

Hsu's methodology is exciting. The descriptions of her 'go-alongs' where she gathered data over three years of fieldwork are told in a personal and highly readable way that compromises nothing on academic rigour. Her chapter titles – 'Credit and Favour', 'Repaying a Friend' and the 'Social Cost of Sanctions' – eloquently contrast and connect the 'arm's length' nature of global finance with the social network surrounding a microloan. By the end of the book, Hsu persuasively demonstrates that the real 'assets' driving repayment and default are informal social ties, questions of morality and methods of survival already functioning in rural China, rather than contractual loan terms and formal peer social collateral sanctioning.


Hsu leads us to this understanding by explaining how prevailing microfinance models hinge upon a typology of personhood driven on assumptions of separateness and permanence. The key theme running through this typology is individualism. This assumes that a borrower internally weighs the costs and benefits of repayment and sanction for herself and is not assumed to make decisions in consideration with others. Permanence continues the individualistic theme by presuming a borrower's fixed repayment motivation as forever tied to financial interest rather than a changing one that might consider non-pecuniary interests like an opportunity to maintain social networks, goodness and identity. This holistic understanding of personhood ('Guanxi' in Mandarin Chinese) is connected to material and emotional components and personal relations.


Hsu demonstrates how the Guanxi she observes conflicts with the individualistic typology of personhood used to model microfinance repayment behaviour. Referring to Joseph Stiglitz's much-cited article on peer monitoring in microcredit programmes, Hsu shows how an individualistic typology feeds into the dominant 'Grameen' model for group lending microfinance through an assumption that the site of action is only ever the mind of the individual and that individuals make calculations based entirely on financial considerations. It does not matter to whom the money is owed (for Stiglitz, the 'faceless' bank is interchangeable with a 'faceless' government), and borrowers are assumed to not repay and therefore need to be induced to do so through the yoking together of similarly 'faceless' individualised borrowers who are also assumed to share no pre-existing obligation or connection.


Through two comparative field studies, Hsu critiques Stiglitz's individualised and context-free view of repayment. The major difference between the two microfinance studies she observes lies in the method through which the social collateral mechanism is administered. One involves a guarantor programme devised by local NGO, 'Global Hope', and administered, along with the government, through the village committee. The programme hinges on personal ties as one elected villager personally guarantees the loan, making repayment akin to 'repaying a friend'. The other 'Grameen' model involves no such personal connection and is entrenched in a top-down initiative led by the government and a pool of influential villagers. Here, repayment by ordinary villagers is strongly incentivised as these are government loans. Ordinary villagers lack power and agency against the influential villagers that also assist in loan administration. In the 'Global Hope' model, these structures did not exist and a borrower's repayment obligation was assigned to a specific guarantor. In the social context of the village, repayment and sanction decisions became a personal tie between borrower and lender, forming a small part of the village's living social network and one mechanism through which one's Guanxi can be formed and displayed on the village stage.


Whilst repayment occurred in both models, solely examining repayment schedules would not tell the full story of the conditions for repayment, or exactly what and whom are driving it in each scenario: a position that stands in tension with Stiglitz's context-free individualistic site of action. A look at repayment records would not show that the ways in which people cultivate their relationships make all the difference as to who borrows and who repays. It would not show how the intervention of the guarantor mechanism had two transformative impacts that confound microfinance models based on a borrower's individualistic calculations and a social collateral model secured through overt peer pressure.


First, it transformed lack of repayment into an 'impossible debt': a personal debt obligation among villagers who saw borrowing amongst them as being about relationships, survival and the creation of Guanxi or self. Second, the guarantor model demonstrates how sanctioning default can be unappealing for the sanctioner. Considering that a moral wrong can decrease someone's Guanxi within the village and lead to a string of retaliatory actions amongst inhabitants, sanctions can be unappetising. Since microfinance models depend on the shaming of the defaulter, the success of the Grameen model is entirely dependent on something happening that everyone is trying to avoid!


I strongly recommend Borrowing Together for anyone who would like to explore more deeply current development theory and practice and how a 'turn' to social ties might impact development outcomes. Becky reminds us of 'the difference ethnography can make' to policy applications. On this repayment data itself would tell us little about the actual interactions between villagers and the internal networks that incentivise repayment and, in some cases, even de-incentivise peer sanctioning: results that run contrary to the Grameen model of individualism.


As a project finance lawyer interested in the challenges posed by the complexities of the global economy and its implications for human rights and well-being, my only critique is that an opportunity might have been missed to apply the rich fieldwork more widely to quality interdisciplinary scholarship that identifies and addresses gaps in policy and practice around human well-being and fairness under today's conditions of economic globalisation. Studies like Hsu's are so relevant to this important global research field and contribute immensely by providing a robust empirical basis for questioning dominant assumptions on what creates a 'good life'. Hsu reminds us that entrepreneurship and private property are not magic bullets for development, and that being an honourable and good person can be of greater importance for repayment and default profiles: a finding that can add value to practical policy implementation. These incentives knock microfinance lending assumptions off their 'modelled' path and might begin to explain Lisa Simpson's confusion with microfinance not going as she expected.


Read the original article on the LSE Review of Books page
RECENT FACULTY BOOKS
Borrowing Together: Microfinance and Cultivating Social Ties by Professor Becky Hsu.
Subprime Health: Debt and Race in U.S. Medicine by Professor Leslie Hinkson.
Islam, Gender, and Democracy in Comparative Perspective by Professor Jose Casanova.
RECENT FACULTY ARTICLES
Children's Living Arrangements and On-time Progression Through School in Latin America and the Caribbean by Professor Laurie DeRose.
Availability and Accessibility of Vacant Lots for Urban Cultivation in Post-Katrina New Orleans by Professor Yuki Kato. F
Archives
Fall 2017 Faculty News
Spring 2017 Faculty News
Fall 2016 Faculty News
Summer 2016 Faculty News
Spring 2016 Faculty News
Fall 2015 Faculty News
Spring 2014 Faculty News
Fall 2013 Faculty News
Fall 2012 Faculty News
Fall 2011 Faculty News
Spring 2010 Faculty News
Spring 2009 Faculty News
Fall 2007 Faculty News
Fall 2006 Faculty News
Spring 2006 Faculty News
Fall 2005 Faculty News
Fall 2003 Faculty News
Fall 2002 Faculty News
Spring 2002 Faculty News