For Faculty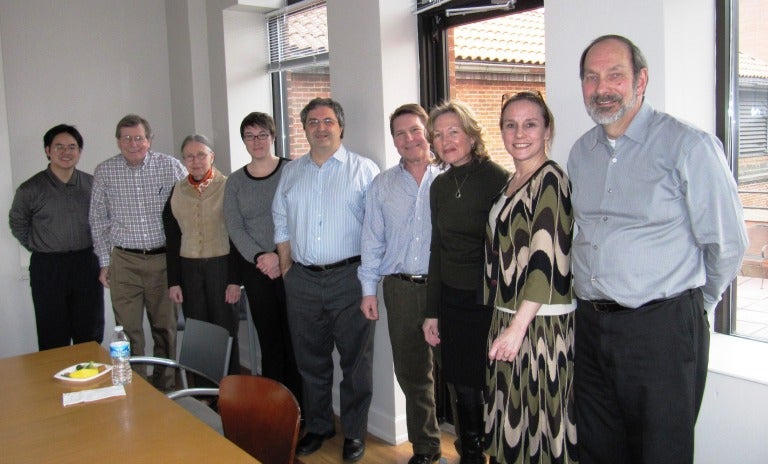 The following are resources compiled by the Department of Sociology for the benefit of its faculty. Please take the time to explore some of these exciting opportunities!
Quick Links
Course List – day, time, and location of your course
Academic Calendar – holidays, start and end of semesters
MyAccess – class rosters, grade submission
Human Resources
Technology
Policies
Course Preparation and Materials
Resources for Students
GU's Writing Center (new window) – free resource staffed by English graduate students, able to help students with any stage of the writing process
Academic Resource Services (new window) – study skills workshops, health and wellness, spiritual, campus activities, community service opportunities, academic tutoring, safe rides transportation, learning and disability support, and more.
GOCard – Georgetown ID Card
The GoCard (new window) is a credit-card sized identification card used by all members of the Georgetown community. While there are many more student uses, you will need a GOCard in order to use library resources, access campus events, use the Georgetown University Transportation Shuttle, and use the athletic facilities or attend games.
Your NetID and Password
A NetID is an automatically assigned, unique electronic identifier for each person at Georgetown. You will need your NetID to submit students' grades, access Blackboard and Canvas for courses, and make payroll and benefits changes. You will be assigned a temporary NetID password, which you must change within a week of issuance.
If you have questions or concerns about your NetID, contact the UIS Service Center at 202-687-4949 or help@georgetown.edu. They are staffed 24×7 to assist.
I-9 Employment Eligibility Verification Form
The I-9 Employment Eligibility Verification Form is used to verify the identity and employment authorization of individuals hired for employment in the United States.
All new hires on the Main Campus (Faculty, Staff and Students) need to complete their I-9 Form on or before their first day of employment for pay with an authorized representative.
I-9 Forms can be found in the University Human Resources office, in the basement of Healy Hall. Completion of tax documents will also be carried out in the HR office. For more information, visit the University Human Resources Website.
GMS: Georgetown Management System
The Georgetown Management System (GMS) is a secure, web-based program that lets University employees access their employment information (i.e., payroll, paid leave, and benefit information) online.
Navigate to Georgetown Management System (GMS) and log on using your NetID. Under "Pay", select "Payment Elections" in the "Actions" column. Click "Add Account" and follow the prompts to set up direct deposit payments from your Georgetown employer into your bank account.
Transportation_to_Campus
Parking is limited on campus, so if possible, please take public transportation. Directions to campus and transportation options are detailed online.
Adding My Faculty Profile Online
In order for your faculty profile to appear on the Sociology website, you must enter it at http://explore.georgetown.edu. Log in on the right side of the screen with your NetID and password. Follow the prompts to add your information. Please add your bio, publications, work experience, portfolios, research keywords for media, syllabi, and anything else relevant here.
Technology Resources
The CNDLS Teaching Handbook covers the various technology resources available to faculty for teaching and research.
Georgetown Email account
The university sends most important information to your Georgetown email account, so you must activate your email account to make sure you are receiving university notices.
Blackboard
Blackboard allows you to view students in your courses, e-mail them by setting up a discussion/e-mail list, and post a readings and music files for class – in addition to other uses. You must activate Blackboard before you or the students in your class can use it. You will need your NetID and password to use Blackboard.
Faculty can add other students not enrolled in the class, including TAs, to their course's Blackboard list.
For instructions on using Blackboard, please refer to the UIS Blackboard Support page.
Support for Classes
Sociology faculty and teaching assistants can arrange for audio video materials directly through Classroom Educational Technology Services (CETS).
Movies
If you need to show movies in your class, you can check out movies in Gelardin or show your own/stream movies.
Online Journal Subscriptions
In addition to the academic journals that you may access through the Georgetown University library website (using your Net ID).
Software (Free and For Purchase)
Before you buy any software, remember that you may be able to obtain certain commonly-used computer programs at no cost, such as antivirus programs. Visit Georgetown University Information Services (UIS) for a list of software resources.
Faculty Handbook
The Faculty Handbook covers all faculty guidelines and resources and is available online.
Office Resources
Xerox/Scanning: Xerox machine can be used to make copies, or scan materials. Scanned materials are emailed to a GU email address that you select (just select the "email" option to scan items).
Mailboxes: You have a mailbox in Car Barn Suite 209.
Alternative space options for meeting with students or research space
Meet with students in Lauinger coffee shop via their "office hours" program. Make a reservation, the library reserves a table for you and provides free food and drinks for you and your students who meet with you.
Request a faculty carrel in the library (new window) to put your books and belongings in for the semester.
Syllabi
Upload your syllabus to the University's website via Explore (new window):
Spring classes: Please upload by the beginning of Spring Semester
Summer classes: Please upload by the beginning of Summer classes
Fall classes: Please upload by the beginning of Fall Semester
The syllabus should include:
Your contact information and your office hours
Course number, day, time and location of the class
A list of all readings/materials to be purchased and where they can be found

Make sure that the students can easily obtain all books/articles before you include them on your syllabus
All books/articles that you expect students to purchase, or want to have available, should be put on reserve at Lauinger Library

Take-aways and/or skills gained from the class
A synopsis of the general focus for each week
Reading/Homework assignments for each week

It is reasonable to expect students to read approximately 130 or more pages per week
Some professors divide their readings between assigned and recommended readings, and this seems to work well with the students
Most important–based on student feedback–is that the readings be relevant to class discussions

A description of what you expect from the students in the class
Due dates for all major projects and papers
Components of the grade (ex: 50% final paper, 50% weekly short presentations, etc.)

If participation is a criteria, use concrete standards (such as an attendance record or contributions to online discussions) by which to measure.
Grading criteria should be listed in the syllabus in percentages, i.e. 30% final paper, 30% class participation, etc.
Keep in mind that students like to get feedback on how they are doing before it's too late to do something about it.
It is especially important to complete and submit your syllabus on time. Students want to view the content and requirements before classes begin. A complete and snappy syllabus and/or course description can increase the number of students who will enroll in your course.
Course Rosters
Use MyAccess (new window) to obtain a list of students enrolled in your class(es). You can also email all the students enrolled in your class using Faculty Access+.
Book Orders
Course texts are ordered through the Georgetown University Bookstore by emailing Linda Newcomb ln@georgetown.edu.
Listing Your Course
Summer and Fall courses must be submitted in January. Spring courses must be submitted in September. The Director of Academic Programs will be in touch with you regarding course details. The course will also be listed on the main Georgetown University schedule of classes, so it is visible to students and faculty in other programs.
Library Reserves
The front desk staff can scan materials you'd like to have available electronically in Blackboard. Once scanned, we will send them to you to post in Blackboard.
The other option for electronic reserves is to post them on the e-reserves site at the University library. If you do this, we can submit the forms for you, but the Library will scan the materials and upload them to the e-reserves site.
If you go through the library, keep the following in mind:
Processing may take TEN OR MORE business days
Only articles are placed on electronic reserve (good alternative to course packets)
Limit of 40 electronic reserve items that can be put on reserve for each course.
E-reserve forms can be accessed from the library website.
Forms must be physically submitted along with the materials you want to have put on reserve to the library circulation desk.
The requesting professor must sign all photocopy/electronic reserve request forms
You an also put materials for class physically onreserve in the library.
Reading Packets
Lauinger Library no longer prints course packets. Please refer to this document (new window) for information on where to obtain course packs.
Copyright Policies
Remember that all packets, handouts and reserve material must comply with Georgetown copyright policy, which generally follows the American Library Association's Model Policy Concerning College and University Photocopying for Classroom, Research and Library Reserve Use (new window). The Model Policy outlines "fair use" rights in the academic environment for classroom teaching, research activities and library services. Items are usually considered to fall under the "fair use" doctrine if they are printed/copied/distributed a single time and are no more than:
One chapter from a book;
An article from a periodical or newspaper;
A short story, short essay, or short poem, whether or not from a collective work;
A chart, diagram, graph, drawing, cartoons or picture from a book, periodical, or newspaper.
Subsequent uses of the same material by the same professor for the same class will require that the professor request permission to copy materials as they would no longer be covered by "fair use".
The Georgetown University Counsel's Office has compiled an exhaustive document regarding copyright policies for the Georgetown learning environment, including policies regarding digital works. All Faculty are encouraged to read about Georgetown University's copyright policies in the Faculty Handbook (new window).
Georgetown University Intellectual Property Policy (new window) (supercedes other policy from 1999)
Purchase Orders
Need a book, movie or journal for your course that the library does not have? Faculty can request items from the library by submitting a Purchase Request Form (new window).
Periodic showings of films can be done in one of two ways:
Put the film on reserve at Gelardin New Media Center (new window). Students may visit the library at their convenience to view the film.
Consult with the registrar to find an available room on campus for your film showing.
Graduate School Resources for Faculty
The Graduate School of Arts and Sciences provides research support to faculty through six institutional programs. Their Research Support Page (new window) also contains information on visiting scholars/researchers, the Institutional Review Board for the Main Campus, task forces, and faculty committees.
Assistance with Course Preparation
Students working at the front desk are available to assist you with copying and scanning materials for your classes. Please bring or send materials to us at least a week before the materials need to be online, so we can plan accordingly. Contact Hanadi Salih or (202) 687.3658 for assistance.
You can also contact a staff member at any time with any questions about course needs. Dial (202) 687.3658 and let us know what you need help with. We'll then get you to the right person for assistance.
Where and When is My Course
Course days, times and locations are listed on the schedule of classes.
Note that on the first day of classes, usually a Wednesday, Monday classes meet. The schedule is normal after that. Wednesday classes meet for the first time the week afterwards. Please refer to the academic calendar for class session planning.