Black Resistance in the Digital Age
From Twitter to Black Queer Feminism – A Talk with Dr. Cathy J. Cohen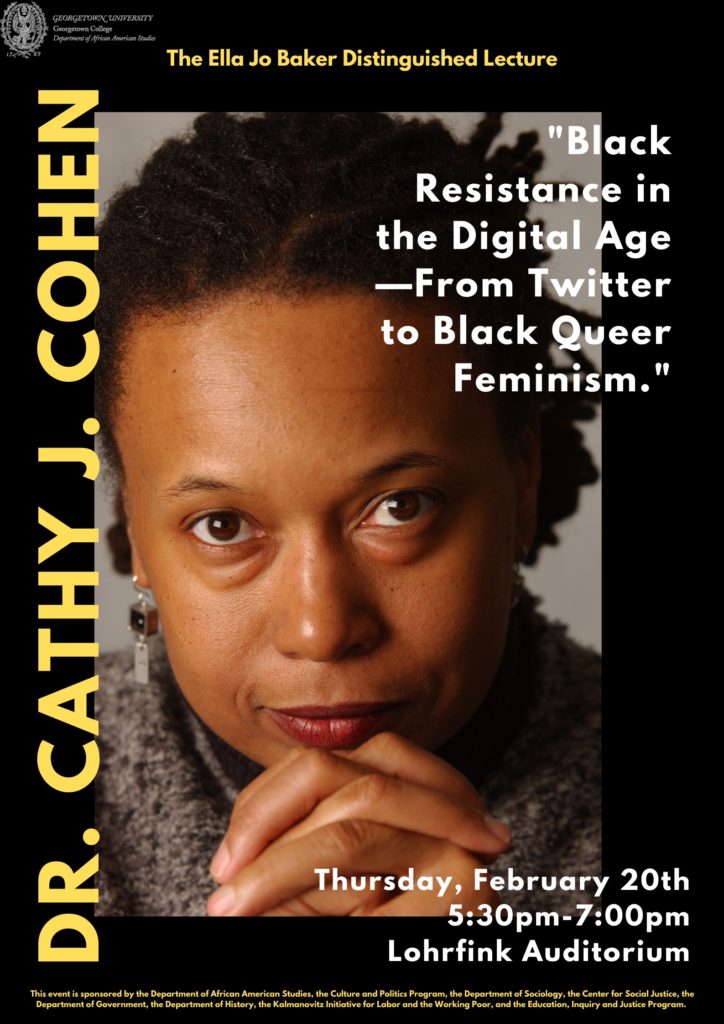 Dr. Cathy J. Cohen is the David and Mary Winton Green Distinguished Service Professor at the University of Chicago. She formerly served as chair of the Department of Political Science, Director of the Center for the Study of Race, Politics and Culture and Deputy Provost for Graduate Education at the University of Chicago. Cohen is the author of two books, The Boundaries of Blackness: AIDS and the Breakdown of Black Politics (University of Chicago Press) and Democracy Remixed: Black Youth and the Future of American Politics (Oxford University Press). She is also co-editor of the anthology Women Transforming Politics: An Alternative Reader (NYU Press) with Kathleen Jones and Joan Tronto. Her articles have been published in numerous journals and edited volumes. Cohen is also co-editor with Frederick Harris of a book series at Oxford University Press. She is the recipient of numerous awards, including being elected to the American Academy of Arts and Science. She is also the founder and director of the GenForward Survey Project and the Black Youth Project.
In addition to her academic work, Cohen has been and continues to be politically active. She was a founding board member and co-chair of the board of the Audre Lorde Project in NY. She also served on the boards of Kitchen Table: Women of Color Press, the Center for Lesbian and Gay Studies (CLAGS), the Arcus Foundation and currently the Field Foundation. Cohen was a core organizer for two international conferences "Black Nations / Queer Nations?" and "Race, Sex, Power" and has also been an active member in numerous organizations such as the Black Radical Congress, ACT UP New York, and African American Women in Defense of Ourselves. Currently, she helped found and direct the new organization Scholars for Social Justice.

This event is sponsored by the Department of African American Studies, the Culture and Politics Program, the Department of Sociology, the Center for Social Justice, the Department of Government, the Department of History, the Kalmanovitz Initiative for Labor and the Working Poor, and the Education, Inquiry and Justice Program.