Alpha Kappa Delta Honor Society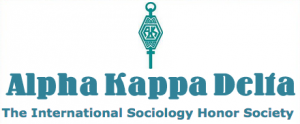 Alpha Kappa Delta began in 1920 at the University of Southern California by Dr. Emory S. Bogardus as a society in which students might become more acquainted with each others' research. Membership in the group was limited to students having high scholarship and doing research work. In 1924 at the Annual Meeting of the American Sociological Association (ASA) Dr. Bogardus met with faculty representatives from several other universities and together they established the United Chapters of Alpha Kappa Delta. In 1927 AKD was admitted to the Association of College Honor Societies (ACHS). Over the years the Society has expanded considerably. During nine decades over 133,000 scholars have been initiated into the Society, which has been divided into ten regions. There are 670 chapters in 49 states and six foreign countries, which generate 4,300 annual memberships.
Purpose
It shall be the purpose of this society to promote excellence in scholarship in the study of sociology, research of social problems, and such other social and intellectual activities as will lead to improvement in the human condition. (AKD Constitution, Art. II, Sec. 2)
Alpha Kappa Delta derives its name from the first letters of the Greek words, "anthropon" (mankind), "katamanthanein" (to investigate thoroughly), and "diakonesein" (for the purpose of service). When this phrase is translated freely, it expresses both the goal and method of Alpha Kappa Delta; "To study humans for the purpose of service." In the final analysis, the purpose of all science is to improve humans' adjustments to our physical, biological, and cultural environments. The purpose of Alpha Kappa Delta is to promote human welfare through the association of a fellowship group interested in developing scientific knowledge that may be applied to the solution of social problems.
The requirements for election into AKD are as follows:
you must be at least a junior (third year) student;
you must be an officially declared sociology major or demonstrate a serious interest in sociology;
you must have an overall grade point average of at least 3.3;
you must have a general scholastic average of at least 3.0 in sociology courses taken at Georgetown;
you must have completed at least four regular (at least three-credit) sociology courses prior to initiation (excluding courses graded as pass/fail)
Applications for AKD are solicited from majors and minors in March of every year. There is a one-time initiation fee of $50, which also covers the cost of a one year subscription to Sociological Inquiry, the official journal of AKD. New inductees are honored at a dinner hosted by the Department of Sociology in late April.
Georgetown University's Delta chapter was chartered in October 1978 with 14 charter members and currently has 180 members.
---
If you are interested in applying for AKD please fill out the Generic Membership Application form found online.
Bring the completed form and a check made out to Georgetown University for $50 to Beth Demro at Suite 209 Car Barn, 3520 Prospect St., NW Washington, DC 20057. Learn more about AKD.
Alpha Kappa Delta Honor Society Inductees
2020 Inductees
Lahy Sean Amman
Emma Catherine Berk
Orunima Chakraborti
Amanda Gayle Grant
Caroline Pearl Healey
Sally Woojung Jo
Belen Limon
Charlotte Eve Matthews
Zayna Nancy Nassoura
Helena Clara Maria Oft
Elisabeth Callan Oki
Elizabeth Pankova
David Perez
Alliemarinda Rose Phillips
Mackenzie Lee Price
Grace Victoria Ramstad
Sydne Cayson Scales
Sierra Nicole Townsend
2019 Inductees
Aviv Lis
Wellsley Lowther
Jose Ramos
Camille Rich
Amalia Rubin

2018 Inductees
Yalda Baktash
Bethany Chan
Brian Allen Davia
Casey Tsilahnee Doyle
Alina Nicole Edep
Alejandra C Ruttiman
Lauren Taylor Smith
Russell Alden Wirth
2017 Inductees
Aloysia Jean
Déja Lunyé Lindsey
Julia Lopez
Yuriana Nunez
Matthew Palmquist
Angela Williams
2016 Inductees
Sally Choi
Victoria Efetevbia
Molly P. O'Shea
Aniqa Tahsin
Do Kyung Yun
2015 Inductees
Molly Movahed
Sarah Rabon
Elizabeth Pinede
Kathryn Wellde
Iris Pepa
2014 Inductees
Nicole B. Carroll
Caitlin R. Gallaher
Anne O. Mesmer
Laura M. Narefsky
Nayah A. Nshom
Whitney W. Pratt
Kathryn C. Scott
Aya M. Waller-Bey
2013 Inductees
Eva Anderson
2012 Inductees
Laura Reese
Ryan Zimmerman
2011 Inductees
Mara Schechter

2010 Inductees
Hae Min Byeon
Tanya Tauja Gassenheimer
Raga Aino Nadella
Allison Claire O'Rourke
Richard T. Sweeney III
2009 Inductees
Kathy T. Gu
Rachel Hannah Ellis
2008 Inductees
Rachel Nicole Weinman
2007 Inductees
Jennifer Michelle Bonsall
Andrew Joseph Ritchey
Emily Vosburg Stone
Anna Lillian Dufendach
2006 Inductees
Byrnn Lee Huyssen
Jose Zachary Canto
2005 Inductees
Mary Eileen Cunniff
Kinisha Latoya Forbes
Brian Robert Morgenstern
Terra Kathleen White
Rebecca Lauren Medway
Katherine Louise Record
Jennifer Alicia Wilson
2004 Inductees
Emily Mary Athy
Kelly Ann Beleckas
Mark Joseph Bissonnette
Jessica L. Cotter
Natasha C. Dasani
Maureen Helen Hahn
Daniel Patrick Matthews
2003 Inductees
Jessica L. Cotter
Daniel Jose Gandert
Maureen Helen Hahn
Jessica Susannah Herrington
Michael Louis Linton
Juan Raymundo Ramirez
2002 Inductees
Vinoda Bandara Basnayake
Carrie-Ann Ferraro
Ryan Charles Hathaway
Jennifer Mary Beth Jacobs
Kristen Angela Miranda
Alexandra F. Rollins
Vanessa Ruth Waldref
2001 Inductees
Lisa Michele Chessare
Carolyn Anne Doveala
2000 Inductees
Adam Stuart Heyman
Laura M. McSpedar
Timothy Sheldon
Sandra van Alstine
Katherine Sara Wald
1999 Inductees
Brittany Dawson
Brian Duff
Gregory Euteneier
Rosa Evergreen
Abby George
Jan Hewett
Rebecca Matthews
Grace Slattery
Jeffrey Trent
Sabra Thorner
Amber Waldref
1998 Inductees
Lydia Claire Bentley
Rebecca Low Bloch
Phillip Linarelli Hammack
William Bernard Olin
Sara Smith
1997 Inductees
Keri Helen Gasper
Anna Catherine Gehriger
Jennifer Lynn Heil
Jennifer Marie Stevens
1996 Inductees
Kathryn Forbush
Sarah Grygiel
Anice Schervish
Jessica Thompson
1995 Inductees
Maria-Manuela Diez
Dennis Layton-Rodin
1994 Inductees
Heather Campbell
Brian Cho
Mary Gavert
Jenelle Hammes
Paul Lachelier
Michelle Lawner
Meaghan Mountford
Tina Tavares
1993 Inductees
Ryan Duncan
Katherine A. Frost
Bryony Gagan
Bethany Kantrowitz
Ketan Kharod
Kathryn LeBlanc
Andrea Pucky
Constance Razza
Susan Schroeder
1992 Inductees
Jennifer Salkin
Vera-Ellen Frye
Christopher Scott Lipp
1991 Inductees
Emily Carrol Hannum
Brian David Inglis
David William McGrail
Noah J. Puntus
Kimberly Anne Tiano
Deborah Dinn
1990 Inductees
Alexandra Scott Chute
Neil Joseph Horgan
Christopher Eric Jones
Donna S. Mazzella
Melissa McCann
Laura McKinley Payne
Sandra Marie Stack
1989 Inductees
John Richard Doherty
Heather C. Splan
Scott B. Button
Richard Nicholas Matic
Anthony Ignatius Giacobbe
1988 Inductees
Amanda Crames
Kim Coletta
Paul Dhalla
Andrew Falk
Sheila Meagher
Roy Tilden Parker IV
1987 Inductees
Diana Y. Chung
Nancy Marie Gregory
Katherine Lee Hughes
Giorgio Giuseppe Piacenza
Katherine van Leuwen
Rachelle Zowine
1985 Inductees
William Martineau
Anne Hargreaves
Martin Janis
Carol Oursler
Jacqueline Schultz

1983 Inductees
Timothy Francis Reynolds
1978 Inductees
Maria Cristina Riva
Toni McMahon
Susan L Ryder
Susan Rafferty
Jean Deluca
Christopher Johnson
Murray Gendell
Mary Loue Mullen
Robert Schmitt
William F McDonald
James Jelinek
Vincent Mosco
Joanne Pozzo
C Margaret Hall
Jan Fritz, Chapter Adviser
Original Charter of 1978 AKD Chapter