Georgetown Features at the 2023 ASA Conference
Posted in Research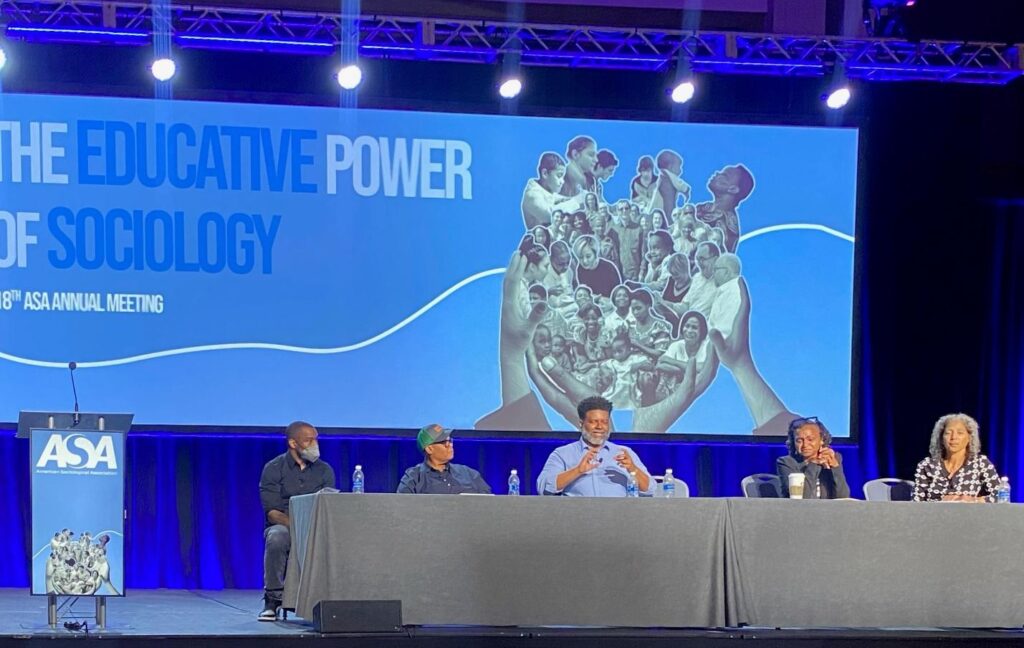 Georgetown Sociology was well represented at the 2023 American Sociological Association meetings this August in Philadelphia! Faculty members were featured on presidential and other invited sessions and regular panels on a range of topics, including politics, place, consumption, and environmentalism.
Corey Fields (above center) joined an impressive group of speakers on the Presidential Panel "African American Political Thought: Differentiation or Linked Fate in the 21st Century," including MacArthur "Genius" awardee Keeanga-Yamahtta Taylor (second left) and Mark Lamont Hill (end left). 
Brian McCabe, currently on leave at the U.S. Department of Housing and Urban Development, was an invited speaker on the panel, "Public Service Sociology: A Call to Action for the Field," joining speakers from the U.S. Department of Agriculture and Harvard University.
Yuki Kato presented, "Appetite for Change: Social Entrepreneurs Defining and Conveying their Social Impacts on Social Media," on the panel Consumption and Inequalities in the Digital Age. 
Kristin Perkins presented a paper in a session on Place and Space titled: "Gentrification in Suburban Enclaves: Differences by Racial and Ethnic Composition."
Gozde Guran's paper, "Money in Conflict: How Aid Flows Professionalize Wartime Markets," appeared in a session on Rational Work in Economic Life.
Tim Bartley presented his paper, "Toward a Sociology of Environmental Improvements: Comparative Case Studies of Toxins, Regulation, and Industrial Change" on the panel Getting Practical: Sociological and Political Insights to Tackle Big Environmental Policy Problems."
Georgetown Sociology was also represented at other national conferences this year including the Society for the Study of Social Problems (SSSP) and the Population Association of America (PAA).
Alyssa Newman was an invited speaker on the SSSP panel "Celebrating G. Reginald Daniel – Multiracial Advocate, Scholar and Mentor." Professor Daniel (UC Santa Barbara) was a pathbreaking scholar in the field of multiracial studies who died in 2022. 
Kristin Perkins presented two papers at PAA, one titled "Heterogeneous Household Change among Children" on the panel Family Complexity and Diversity, and the other "Shared Households as a Safety Net for Older Adults," on the panel Housing as a Form of Intergenerational Family Support.