Bill Healy
Bill Healy, a 2005 Sociology major, is working as a journalist and photographer in Chicago. Bill recently won a National Headliner Award for First Place in Radio Station Documentary for his series on Auburn Gresham, a neighborhood on Chicago's South Side. In the series, Auburn Gresham comes alive through the personal stories of five people: a high school student, a fitness club owner, a House music legend, a 20-something journalist, and an elderly disabled artist.
The series can be found online at https://www.wbez.org/stories/auburn-gresham-chicago/c68e4dbe-6b91-4b3b-b3d0-544779c7cb5d.
The picture shows a woman at Saint Sabina Church in Auburn Gresham (Photo Courtesy of Bill Healy).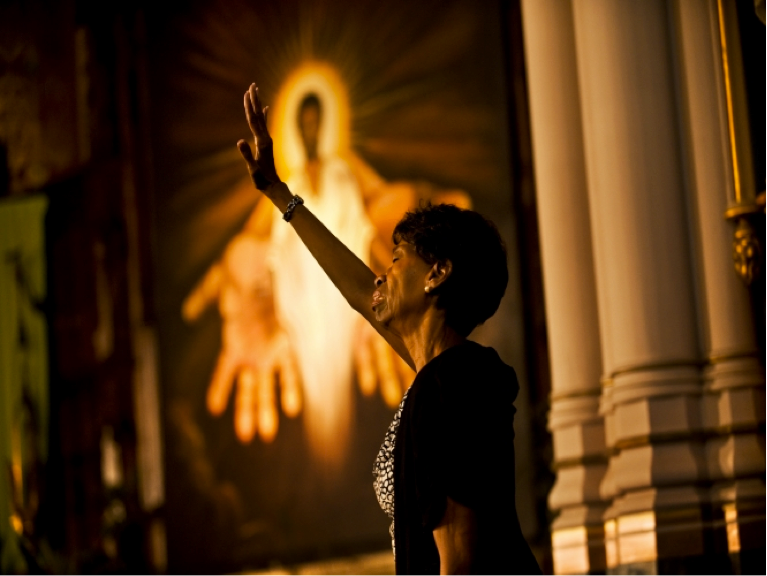 Archive
Aya Waller-Bey (Class of 2014)
Sociology Students Garner Honors (Class of 2012)
Toddchelle Young (Class of 2012)
Ellie Gunderson (Class of 2010)
Donique Reid (Class of 2010)
Maxwell Hsu (Class of 2010)
Rachel Ellis (Class of 2010)
Stephanie Miller (Class of 2009)
Kathleen Noel Benz (Class of 2007)
Rebecca Medway (Class of 2006)
Laurie Okinaga (Class of 2006)
Bill Healy (Class of 2005)
Anice Schervish (Class of 1998)
Dr. Rosemary Barberet Havican (Class of 1983)